It's time to take a look at what I read in June.
As with the previous posts like this one, if you want to know more about the book, or the author, click on whichever it is you want to learn more about, and it will take you to the appropriate page on
Goodreads
. Clicking on my rating should take you to my actual Goodreads review for the book in question.
Don't forget: the format I've reviewed may not be the format I read. Also, please remember that I read across multiple genres and age ranges, so you should always check if a book is suitable for the intended reader, especially when children are involved. Sometimes reading the book's description on its Goodreads page will be enough for this, but other times you may need to check elsewhere to figure out the genre and/or recommended reading level.
OK... On to the reviews!
Fatemarked Origins: Volume II
by
David Estes
My rating:
5 of 5 stars
I fell in love with the main characters from these stories during the main books of the series, so enjoyed learning more about their pasts in these tales. The stories in this collection make a great addition to the series, as well as being entertaining reads in their own right.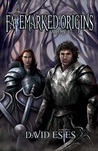 Fatemarked Origins: Volume III
by
David Estes
My rating:
5 of 5 stars
Another well-written and interesting collection of stories, which make an excellent addition to the series, and give more insight in to some of the main characters by revealing more of their pasts.
Darkest Days
by
N.W. Harris
My rating:
5 of 5 stars
Like the first three books in this series, this book is a great read, though not one for those with weak stomaches. If you can handle a few scenes with gory descriptions in them, however, then you will be able to see that it's a well-written book, with an interesting plot that moves at a nice pace, believable characters with relationships that grow and evolve as the series progresses, and wonderfully detailed descriptions. The story is one that will grab and hold your attention from start to finish, and the ending is a great one.
*Note: I was given a free copy of the book in exchange for an honest review. This fact has had no influence on my opinion of the book, or the contents of this review.
Missing at Sea
by
Rita Lee Chapman
My rating:
4 of 5 stars
This book is part mystery story, part romance, and part amazing travel adventure. The description of the experience of the cruise is so wonderful I felt as though I was there, the characters are believable, and their relationships with one another are realistic and develop well throughout the story. As for the mystery itself: it was done so well that I never figured out all of the details before they were revealed at the end, and yet the clues were all there so that it made sense for things to have happened the way they did. All in all, this was a really great read, though one some may find difficult to read if they're sensative to certain subjects.
Under a Vampire Moon
by
Lynsay Sands
My rating:
4 of 5 stars
For the most part, I enjoyed this book. But I felt the ending was too abrupt, and left some unanswered questions. Based on the fact I know from having followed the series from the start that characters from earlier books appear in later ones, I assume we'll find out the answers to those questions in a later book, but that's just an assumption, and I frankly found it frustrating that the book ended where it did.
The Lady is a Vamp
by
Lynsay Sands
My rating:
5 of 5 stars
This book is an excellent addition to the series. The plot is great, and the main characters are wonderful... Especially the adorable Livy.
My Old Clock I Wind and Other Poems
by
K. Morris
My rating:
5 of 5 stars
This is another excellent collection of poems by this author. Some are amusing, like the poem "Howling At The Moon" (one of my favourites of this collection) while others are extremely thought-provoking, like "Evening Walk" (another favourite of mine from this collection). In other words, this collection is a pleasant read, filled with poems which will have you either chuckling in amusement, or lost in musings on topics most can relate to even if they haven't spent much time considering them before.
*NOTE: I was given a free advanced copy of this book by the author in exchange for an honest review. This fact has in no way influenced either my opinion of this book, nor the contents of my review.
Immortal Ever After
by
Lynsay Sands
My rating:
5 of 5 stars
A great addition to the series, with an exciting - and sometimes amusing - plot.
One Lucky Vampire
by
Lynsay Sands
My rating:
4 of 5 stars
It took me a while to get in to this one properly. The plot is interesting, but I didn't feel the spark that's usually there to get me invested in one - often both - of the characters until about a third of the way in to the book (give or take) and that lack of connection meant I was slow to care about their future together. Things improved after that though.
Vampire Most Wanted
by
Lynsay Sands
My rating:
4 of 5 stars
The descriptions of the violence of one character described to another by a thirdd near the end of the book - while thankfully not as detailed as they might have been - were unpleasant to read. In fact, some would say the entire last few chapters are a bit disturbing as the truth is revealed. However, I did take some comfort from the fact it's made clear that this sort of behaviour is not considered acceptable, so I was able to push past those things and focus on enjoying the rest of the book. Still, those things make me feel I can't give this book the full five stars.
The Immortal Who Loved Me
by
Lynsay Sands
My rating:
4 of 5 stars
One of the characters - who has been mentioned in at least two other books earlier in the series - is constantly being called a different name in this book to the name she was previously called. Also, there was one thing at the end of the book that wasn't resolved properly, which I would have liked to know the outcome of. Other than those things, however, I found this book to be an enjoyable read, and a great addition to the series.
About a Vampire
by
Lynsay Sands
My rating:
5 of 5 stars
An entertaining and enjoyable addition to the series, with an interesting - and often amusing - plot, as well as a fantastic cast of characters.
***
We're half way through the year, and I'm behind on my Goodreads reading challenge by several books. As in, more than 20 books. Oops! I still have time to catch up, so I'm hoping I can do so and meet my goal of reading 217 books in 2017 after all. The way things are going though, I'm either going to be doing it by the skin of my teeth, as they say, or not quite making it. Oh well, I've enjoyed most of what I've read so far this year, and that's what matters most at the end of the day anyhow. Still, I'm going to try.
I'm doing better with the other challenges I set myself for this year though. My to-read list hasn't shrunk much, but I'm reading more books than I'm buying, so some of the books I've been planning to read for a couple of years now are finally getting read, and that's the important part of that particular goal. Also, I only need five or six more letters - depending on whether I finish the book I started yesterday before this post goes live - to complete the A-Z reading challenge for this year, and have books waiting on my Kindle to be read for most - if not all - of the letters I'm missing.